Culinary inspiration can come from just about everywhere and television has to be one of my favorites. Watching another cook or chef at work is magic. So when I stumbled upon the final episode of River Cottage's Autumn series, I was in for a treat.

River Cottage is in Dorset, UK and is the setting for Hugh Fearnley-Whittingstall's series on smallholder landshare and back-to-basics cooking. In that episode, it brought forth the reality of rearing chickens for the table, pig butchery, brine making for ham, medlar and apple chutney and medlar jelly, and real mashmallows.

And then there was the chinese style pigs' trotters.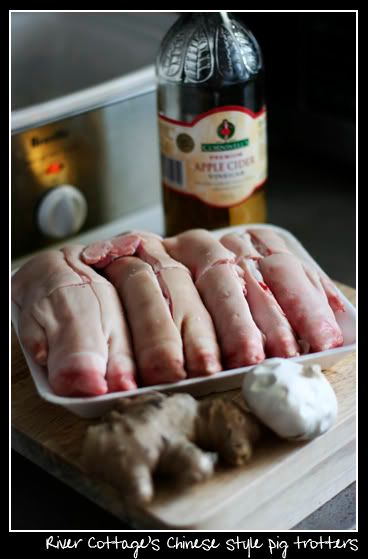 Now I know many people aren't keen on the random other bits of an animal that reminds them of... well, the actual animal. But having been raised in Asia, I was raised to believe that when an animal has sacrificed its life for you, you don't waste it. Any of it.

And the fact is you will often be rewarded with some unique flavours and textures, if you are willing to put in that little bit of effort to prepare the dish well.

The River Cottage recipe serves 8 and we prefer a little more kick in our spice, so I've adjusted the recipe to suit our palate.

Serves 4

INGREDIENTS

2-3 tbsp sunflower or ground nut oil

6 pig's trotters

About 2 or 3 'thumbs' of fresh ginger

3 - 4 large cloves of garlic

200ml organic apple juice

37ml organic soy sauce

20ml organic cider vinegar

10g unrefined caster sugar

4 large, whole, dried red chillies

Freshly ground black pepper


To serve: Fine noodles and wilted greens; in my case, I used kang kong.

DIRECTIONS

Heat the oil over a medium-high heat in a large, heavy-bottomed saucepan. Brown the trotters and knuckle of pork, turning to ensure they are evenly browned all over. Don't overcrowd the pan, as you'll steam the meat instead of browning it – you may need to brown the meat in batches.


Break off one 'thumb' of ginger; peel it and slice it thinly. Peel the rest and grate it. Peel the garlic and crush 2-3 of the cloves; finely slice the remaining one.
Or if you're as lazy as me, just smoosh them with the flat of your knife and roughly slice them.


Add the ginger and garlic to the meat and stir everything together. Next, add the apple juice, soy sauce, cider vinegar, sugar and enough water just to cover.


Finally, add the whole red chillies and a few grinds of black pepper, bring to the boil and then lower the heat and cook on a low simmer for 1-1.5 hrs. The trotters should be really tender and the sweet-and-sour sauce nicely reduced. Taste and adjust seasoning if necessary.


Serve with fine noodles and wilted greens.


This recipe is also perfect for the slow cooker. Just pop the browned trotter into the preheated slow cooker. Stirfry the ginger and garlic in a little oil to get the flavours going, then dump everything into the slow cooker on 'high' until it boils. Once it starts boiling, turn the cooker down to 'low' for 4 hours.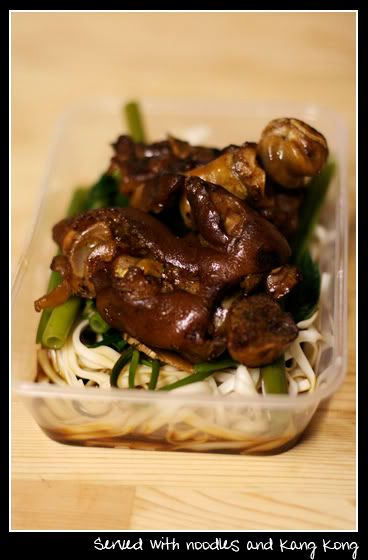 Thus the result: a thick syrupy tangy spicy and sweetness that leaves its yummy stickiness that sends shivers down your spine.