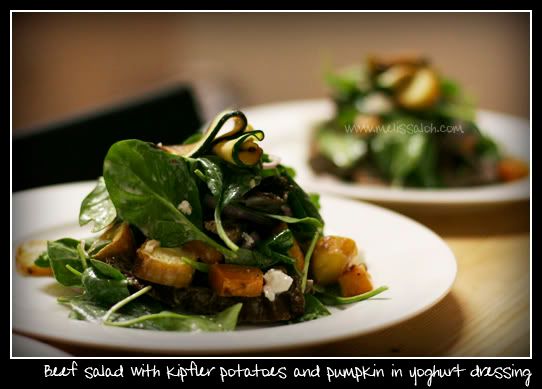 xenalvr is in town and that means we get a fantastic treat. After a morning at the markets and picking up some gorgeous fresh produce, she set to work on our Riverfire dinner.

This is so yum, but there's a lot going on and you will have a number of processes going on, but it'll be worth it in the end.

Serves 4

INGREDIENTS (SALAD)

750gm pumpkin, bite-sized cubes

3-4 kipfler potatoes

1 red onion, finely sliced

1 zuchinni, thinly sliced

500gm lamb loin (backstrip)/beef steaks

100gm baby spinach

1/4 cup fetta cheese, crumbled
INGREDIENTS (MARINADE)
1/4 cup olive oil

1 lemon juice

1 tablespoon minced garlic

0.5 tsp paprika

1.5 tobasco

Salt and pepper
INGREDIENTS (DRESSING)
0.5 tablespoon greek yoghurt

1 lemon juice

1 teaspoon honey

Grated garlic

Pinch of dried rosemary

Salt and pepper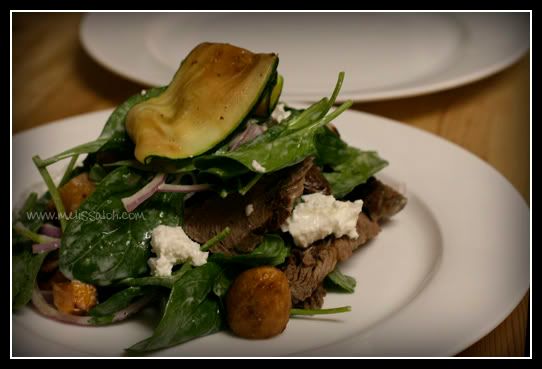 DIRECTIONS
Trim any fat from the steaks/lamb and marinate in a ziplock bag for at least 20 min.


In the meantime, roast the cubed pumpkin in a 180-200 deg C until tender.


Bring enough water to cover the kipfler potatoes to a boil and pop them in just to cook for 10-15 mins, so they don't get too soft. Drain and pop into a deep fryer until they start turning golden brown. Chop and toss them back into the hot oil to finish the frying. Drain and set aside.


Grill the steak on a hot pan to your preferred level of done-ness. We prefer medium rare most days. Remove and slice up.

With the same grill, cook the zucchini slices.


Whisk all the ingredients for the dressing into a creamy consistency.


Toss everything in a large salad bowl and serve up warm.


Recipe (and kitchen slavery) credited to
xenalvr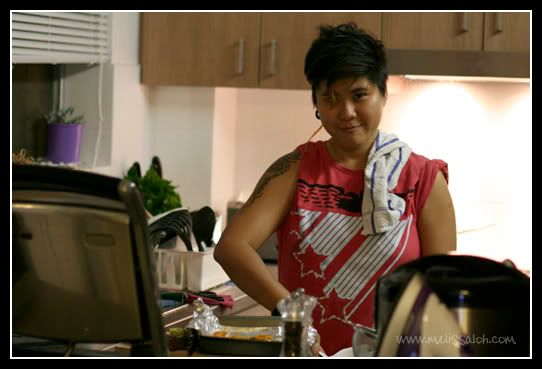 What could be better than having a fab dinner cooked for you with glasses of champers, while looking out over your own balcony to half an hour of fireworks?